For I was hungry and you gave me food, I was thirsty and you gave me something to drink, I was a stranger and you welcomed me, I was naked and you gave me clothing, I was sick and you took care of me, I was in prison and you visited me.
Matthew 25:35-36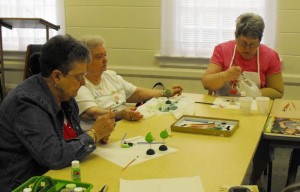 The Mission Committee is made up of five members from the congregation. During their three-year term of office they give direction and oversight to the mission efforts of the church.
They work to coordinate mission efforts among the various groups at Lakeside and to fulfill the suggested mission projects and assignments from the Richmond Baptist Association.
Some of the recent projects include delivery of food items to the local Lamb's Basket Program, a luncheon of homemade soups for Baptist students at VCU, little bags of toys for children who visit with their parents at the Cross Over Medical Clinic and dozens of new socks and underwear for campers who will be attending Camp Alkulana.
Our biggest projects each year are backpacks filled with school supplies for dozens of inner city children and providing toys and jackets for a Christmas store in one of our three Baptist Centers.  The Mission Committee is always looking for needs in our community, city and places around the world.  There is no end in sight for our efforts.