Make a joyful noise unto the LORD, all the earth: make a loud noise, and rejoice, and sing praise.  Sing unto the LORD with the harp; with the harp, and the voice of a psalm.  With trumpets and sound of cornet make a joyful noise before the LORD, the King.
Psalms 98:4-6
The Music Ministry at Lakeside Baptist Church offers several opportunities for participation. Please see Dr. Kimberly Golden, Music Director, or any choir member for additional information.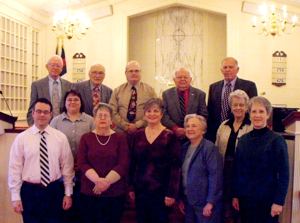 Adult Choir: The adult choir rehearses Wednesday evenings, September-July, from 7:30-8:30 in the Choir Room. The Adult Choir enjoys singing tried and true favorites as well as newer, contemporary music.  They lead in congregational singing and provide special music for worship on Sunday mornings.
Handbell Choir: This two-octave handbell choir rehearses on the first and third Sunday evenings of each month (September-May) from 6:30-7:30 in the Chapel. The bells provide music worship several times a year, including Harvest Home, Christmas and Easter.
Christmas Choir: The Christmas Choir performs a cantata during the Christmas season each year.  They rehearse Wednesday evenings (September-December)  from 7:30-8:15 in the Choir Room. This choir is made up of all the Adult Choir members as well as various church members and friends who are looking to sing just for the Christmas season.
Men's Chorus:  The Men's Chorus rehearses after Sunday morning worship every few months.  They provide special music throughout the year, including our annual Men's Day.  They enjoy singing older, toe tapping  favorites.