Worship at Lakeside Baptist Church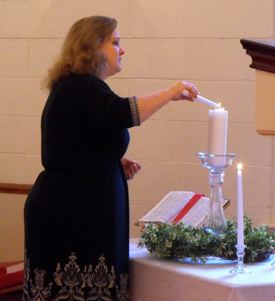 We, at Lakeside Baptist, seek to worship God because of who He is and what He has done for us. We have the awesome experience of true worship when we openly allow our minds, hearts and bodies to respond to who God is.
That response comes through our music, prayers, testimonies and message of thankfulness for God's greatness and His goodness.
We acknowledge that God commands us to worship Him and one of the ways we do that is by openly expressing our love for God.
The first of all the commandments is: 'Hear, O Israel, the Lord our God, the Lord is one. Love the Lord your God with all your heart and with all your soul and with all your mind and with all your strength' (Mark 12:29).
Expressing this kind of love IS worship because it is worshipful adoration for a God who deserves our love. When we love people who are undeserving of love, we are expressing an act of mercy. But, when we love God, it is an act of worship.
God uses our worship at Lakeside to accomplish His purposes. It is true that God doesn't need our worship or praise or affirmation. God is totally complete without us! However, God has asked us to worship Him, and worship is an essential part of God's plan for His people and His church.
God places us in a position that enables us to know and enjoy all that God has in store for us. God is actually asking us to give something that benefits "us" instead of Him! Worship is God's means of bringing us to Himself. So, over the last 60 years, we at Lakeside have come to know that it is our worship that pleases God.
Our worship at Lakeside also proclaims God to others. We want people to hear God's redemptive message. It is far too wonderful a message for us to keep it to ourselves. "One generation shall praise Your works to another, and shall declare Your mighty acts" (Psalm 145:4). Adapted from James Pittman's booklet

What Kind of Worship Is God Looking For?